Connect & Combine Data
Today businesses have a wide range of data sources both internal (for example ERP system, payroll data, operational data etc...) and external (for example bench-marked data, industry data, supplier data and so on...). Essatto has an inbuilt Extract, Transform and Load (ETL) capability that enables the loading of data from multiple sources.
Do you have the following challenge?
A large amount of business data resides in multiple systems other than Odoo. Combining and analysing the data is not easy and is largely a manual & time-consuming process undertaken via Excel.
Would this add value?
Empower your users to explore and relate "all" organisational data in a centralised location, gain new insights and answer questions which ultimately lead to better business decision making.
How can Essatto help?
Use Essatto ETL to combine data from multiple data sources or modules, then blend the data for reporting and analysis.
Leverage the pre-built Essatto Fast Connectors for various source systems

Add and combine data from other financial and operational data sources

Add cloud-based data sources such as Google Analytics, MongoDB, Facebook etc...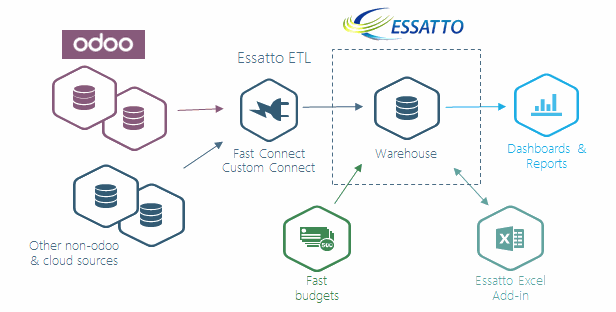 Introducing Odoo Fast Connect
Accelerate time to value with Fast Connect pre-built connectors for Odoo.
The Odoo Fast Connector gets you up and running quickly with Essatto by connecting you to all your Odoo data sources allowing you to produce drillable dashboards that combine data from multiple Odoo and other sources. This facilitates data analysis and multi-scenario budget and forecast production in a cost-effective and timely manner.
Explore all of your Data
By empowering users to analyse 'all' of their business data you will get them thinking about their business in new ways, which leads to better business decisions.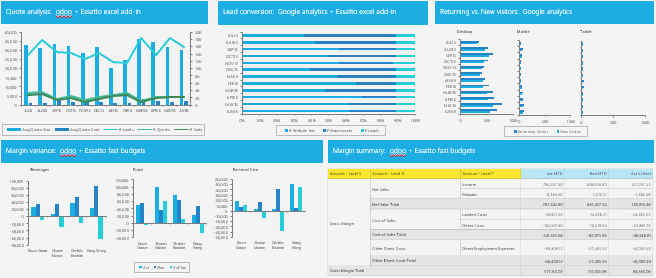 Improved Business Decision

Remove Manual Data Massaging

Save Time Building Reports
Reduce Business Risk with trusted, governed self-service analytics